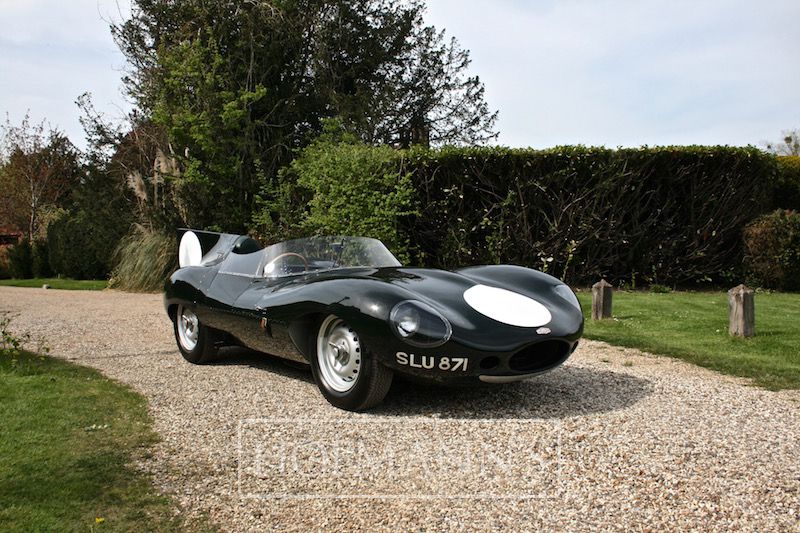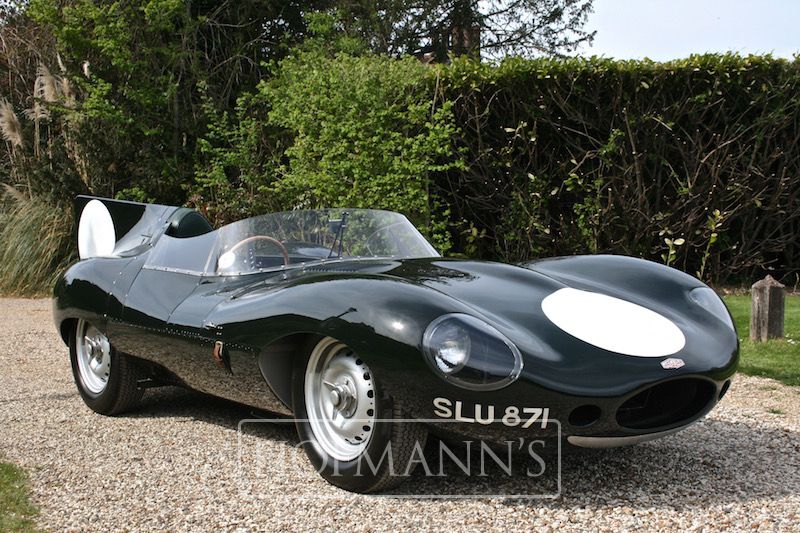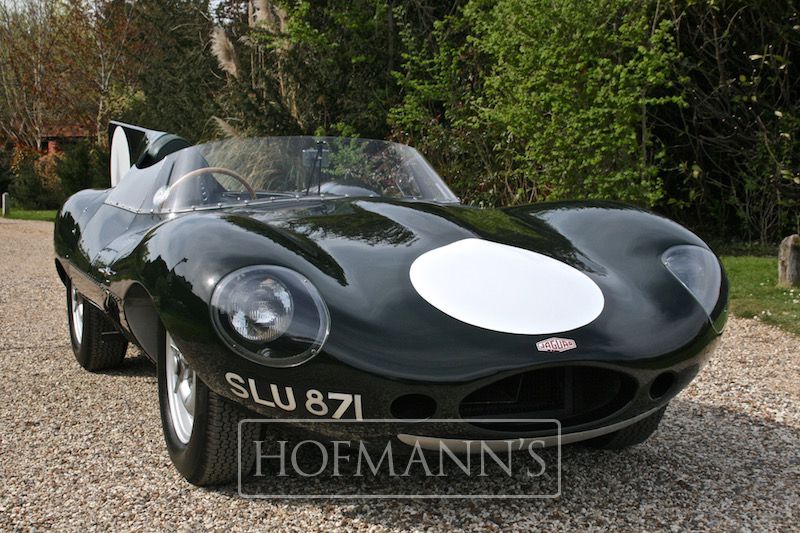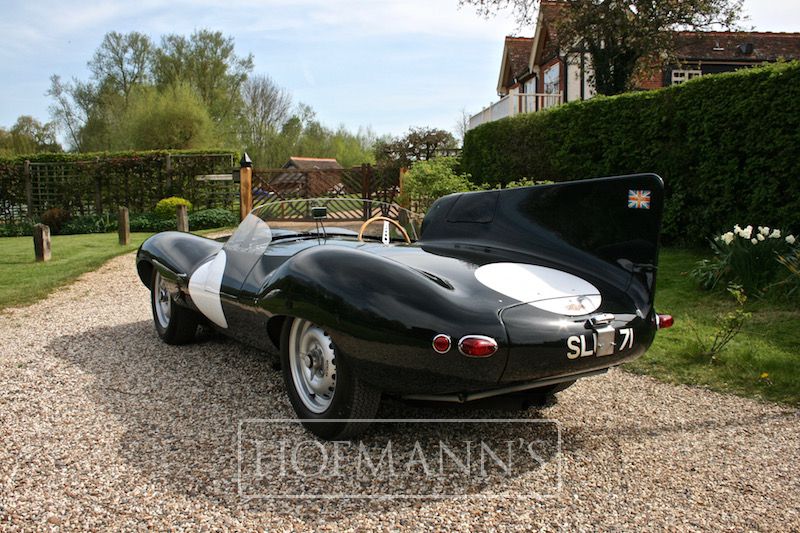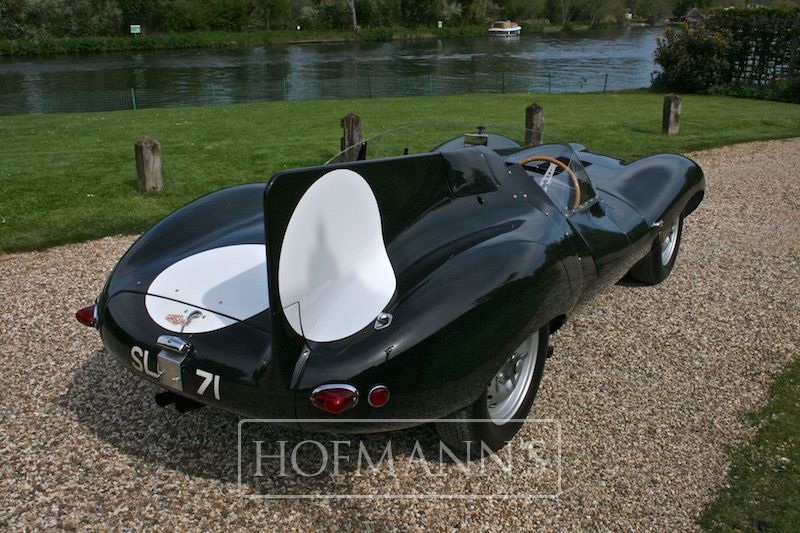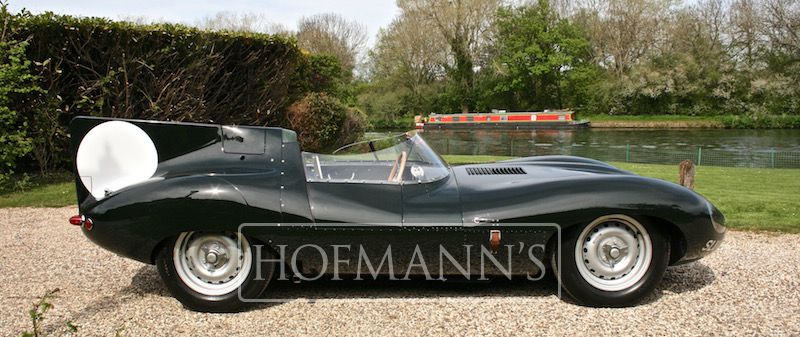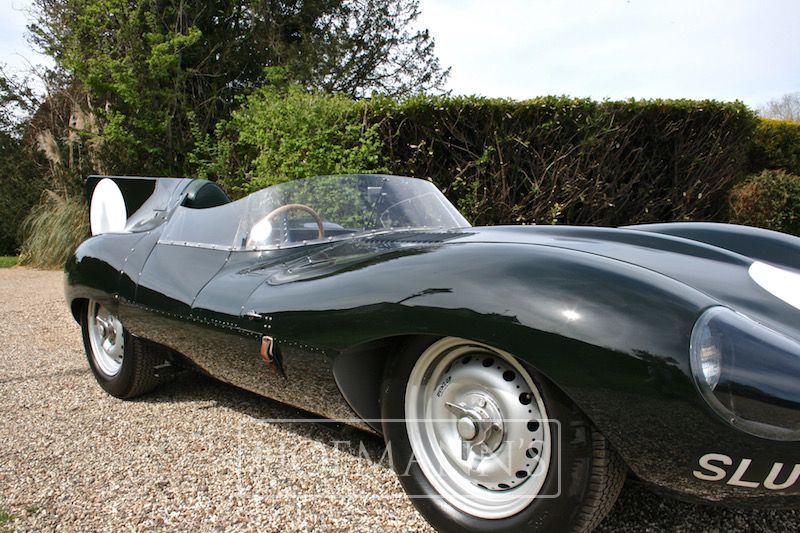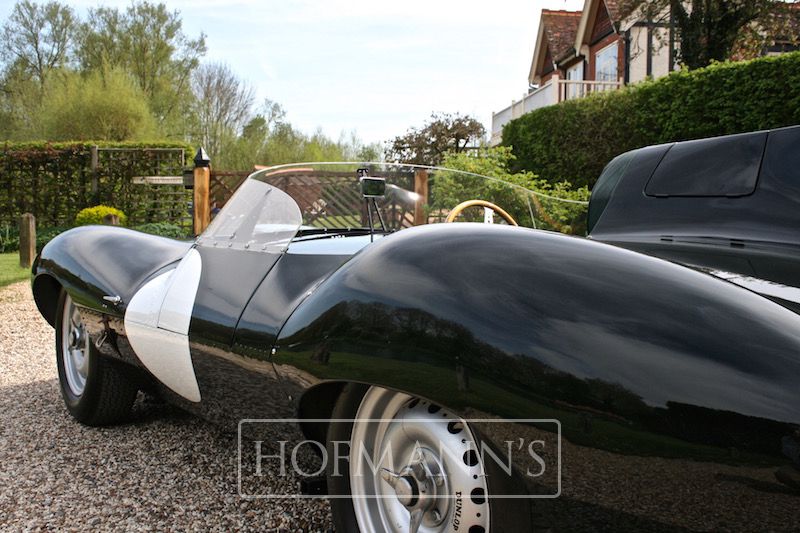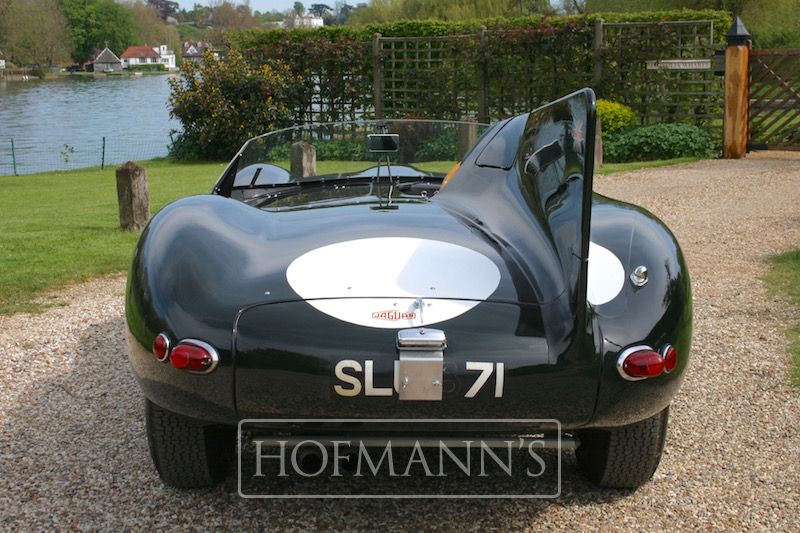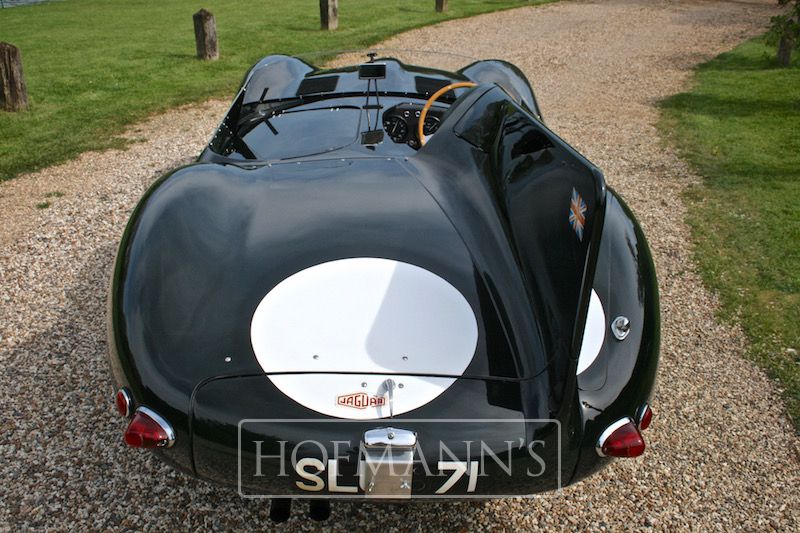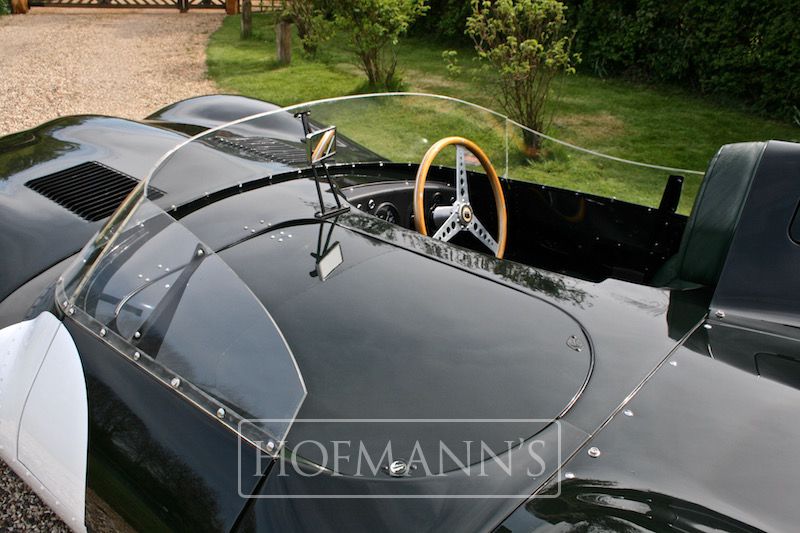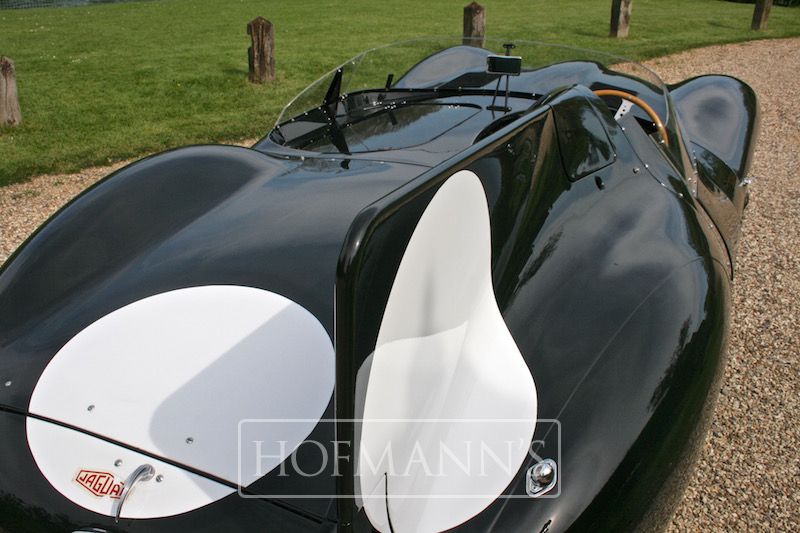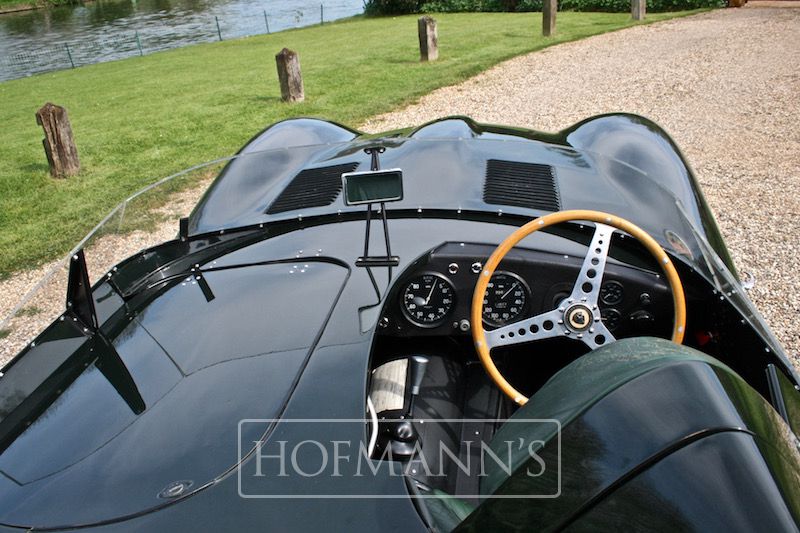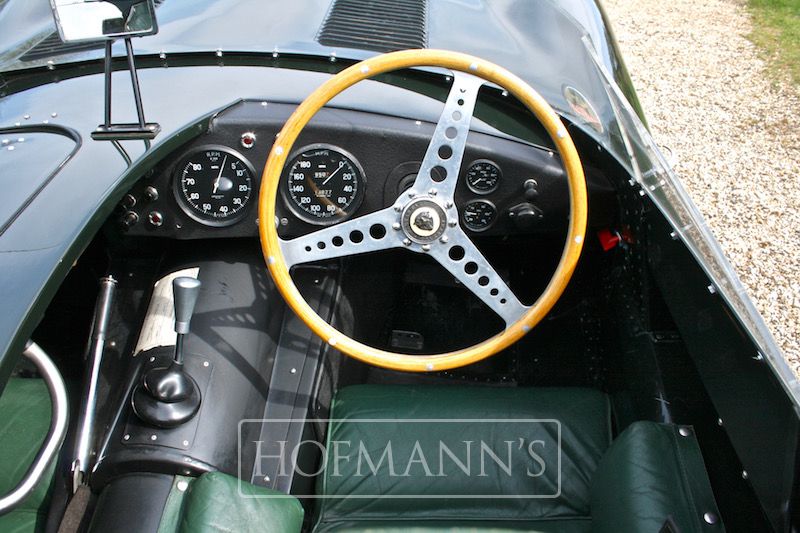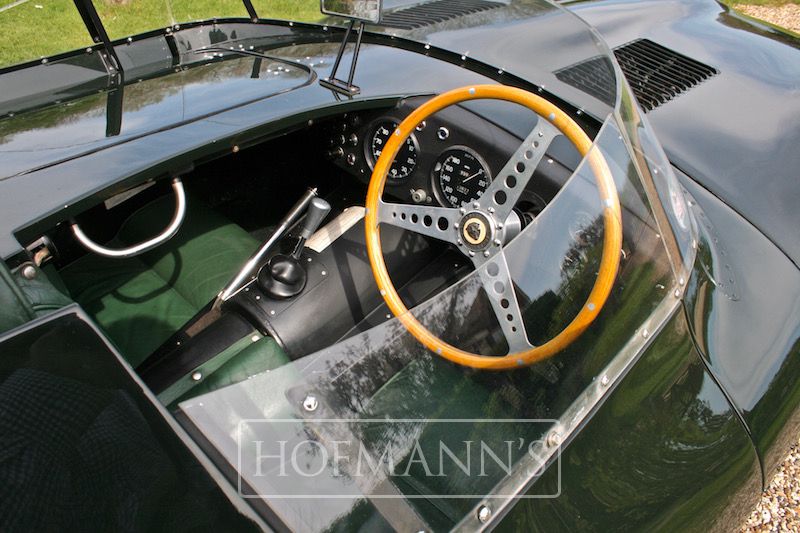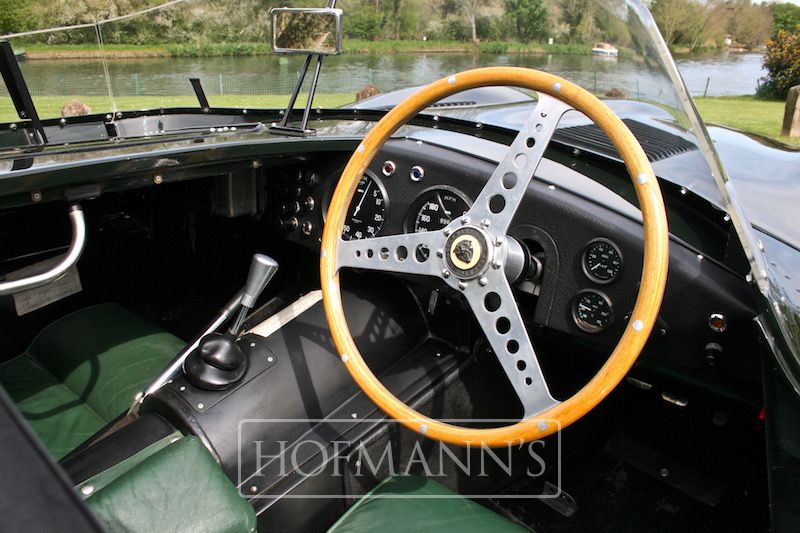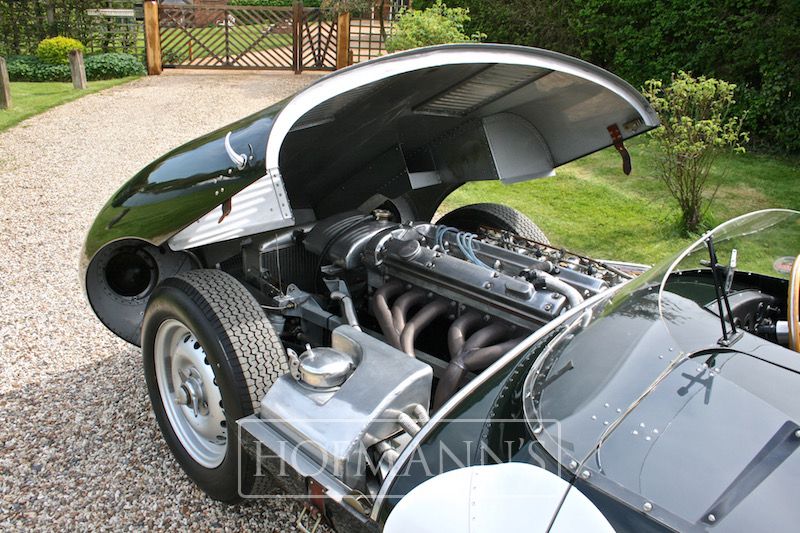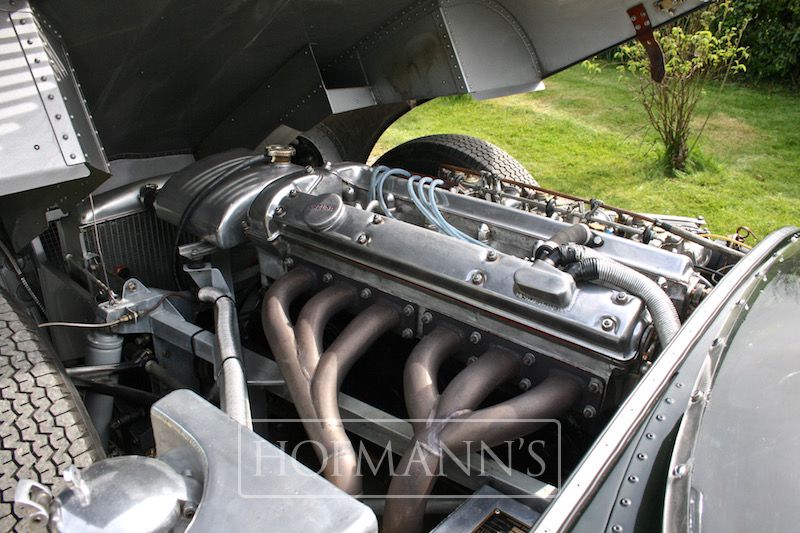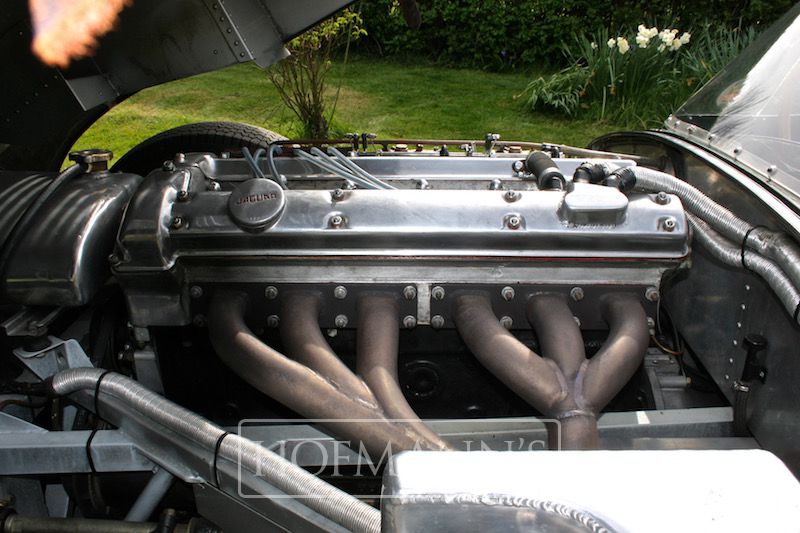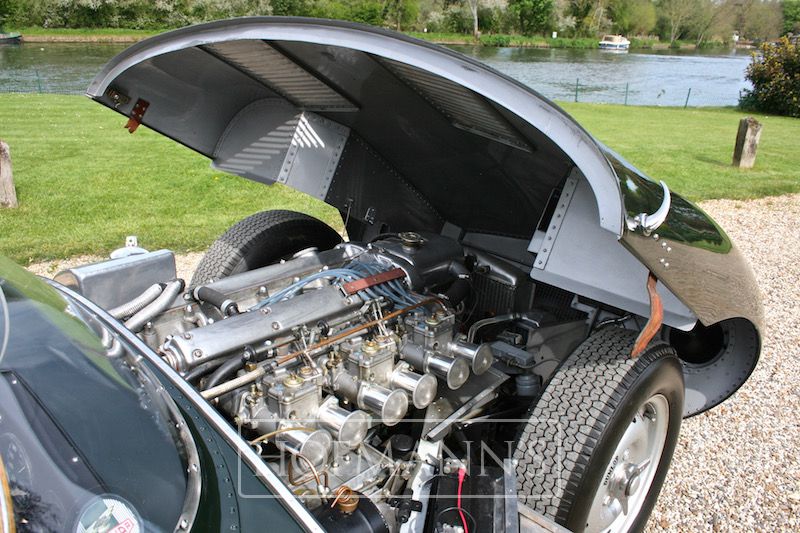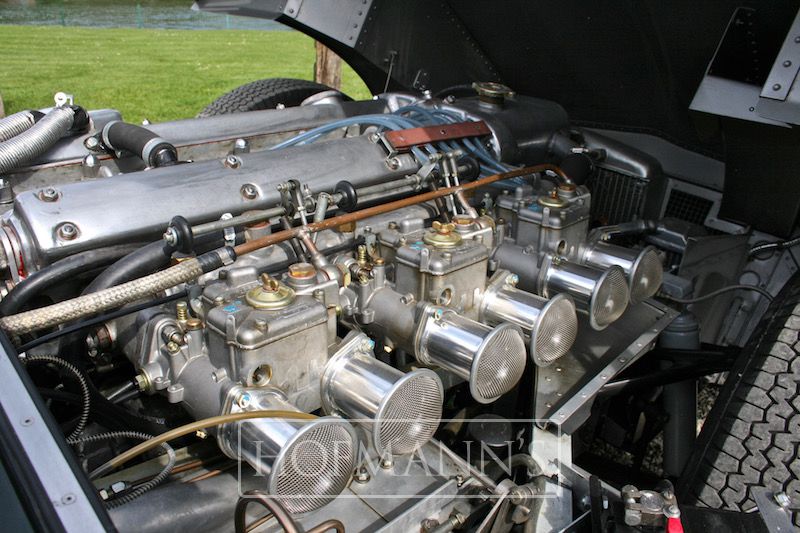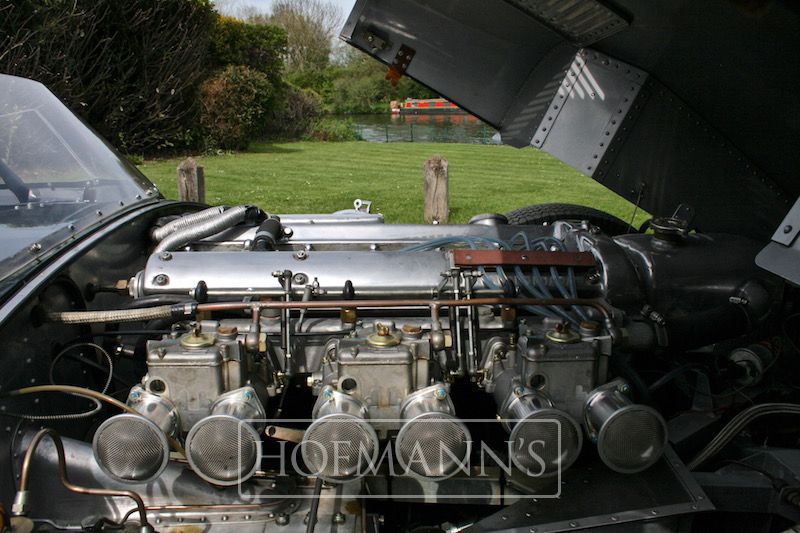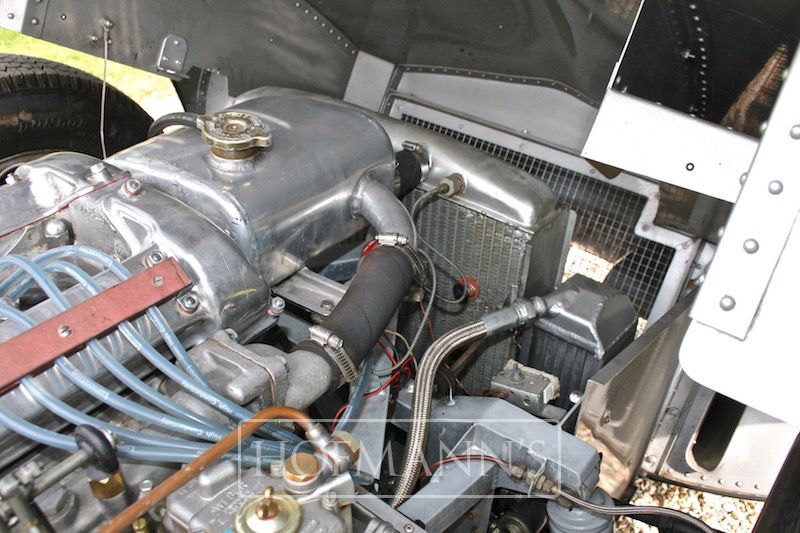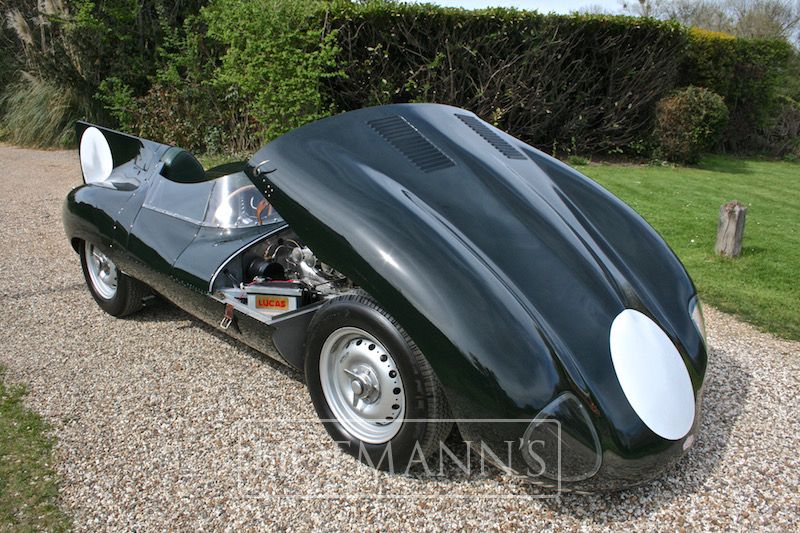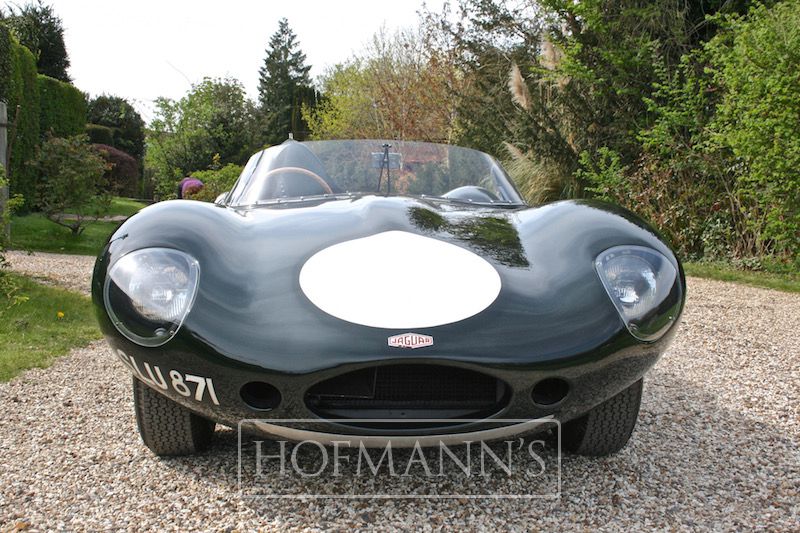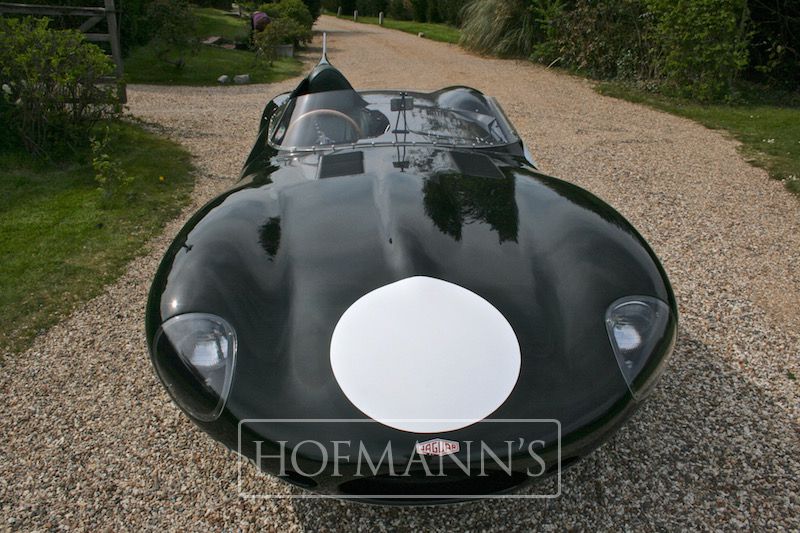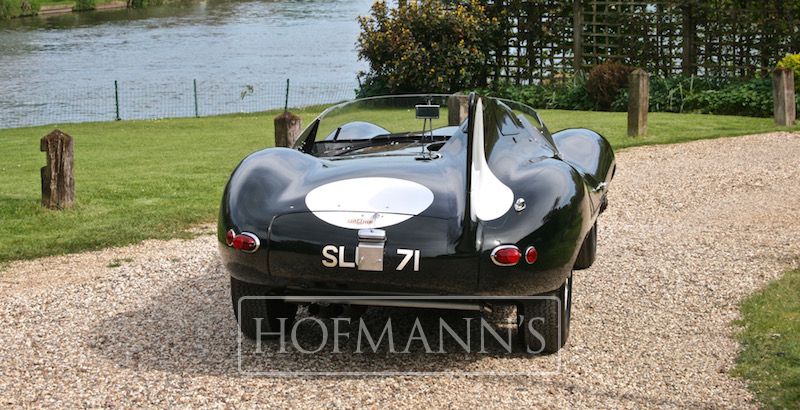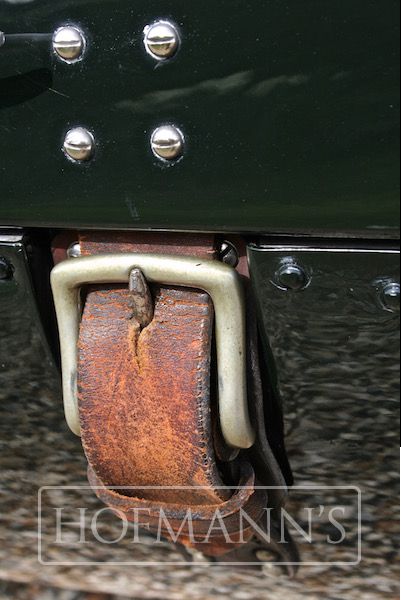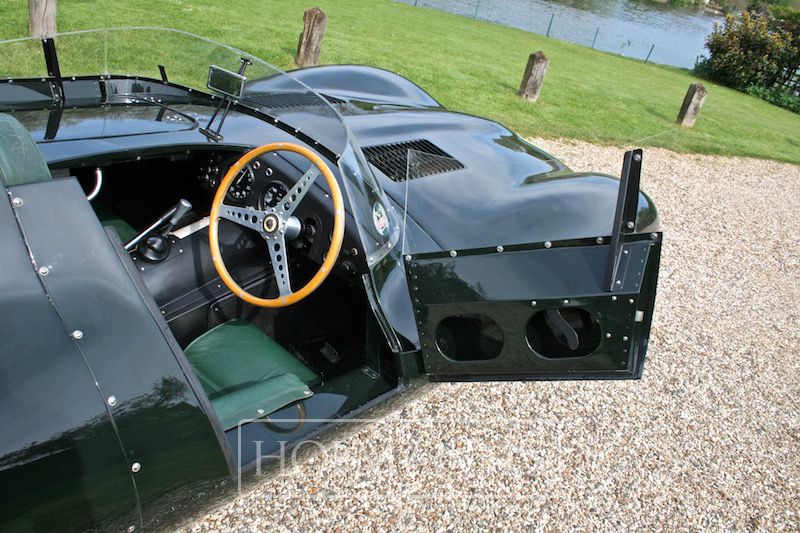 Jaguar D Type Long Nose by Proteus
If you are interested in this vehicle please contact Hofmann's of Henley on 01491 848800 or complete the short enquiry form.





The legendary D-Type succeeded the C-Type in 1954, many aficionados consider the D-Type to be the classic post-war sports racing car. Incorporating much that had been learnt from the iconic C-Types, the D-Type embraced aircraft technology in its construction and aerodynamics. The D-Type used monocoque technology. Attached to the front of the monocoque tub was a tubular sub-frame, which carried engine and front suspension. The tub was constructed of magnesium alloy and consisted of a double-skinned front and rear bulkhead with large tube like sills. The one piece bonnet hinged forward like the C-Type and the rear bodywork was removable. To reduce frontal area the engine was mounted at an angle of eight degrees and for the first time dry sumped. The D-Type used an all new gearbox and even more efficient disc brakes were adopted, new Dunlop light alloy wheels replaced the C-Types wire wheels. Aircraft style flexible fuel tanks were positioned in the tail and were accessed through the distinctive streamlined headrest, which later gained a fin for high speed stability.
Three of these beautiful D-Types lined up for the 1954 Le Mans race and "should" have won. The race was extremely frustrating for Jaguar as there was talk of sabotage when traces of fine grey sand were found in the cars fuel tank. The race continued with the Ferrari's domination being eaten up by the D-Types as the weather conditions deteriorated. By the end of the race Duncan Hamilton's car had managed to achieve an incredible win for Jaguar. Duncan commented in the post race briefing that the car was wheel spinning at 170mph on the very wet Mulsanne straight.
This stunning example has been in its current ownership since 2003 and is finished in Jaguar Racing Green with Green leather interior. The chassis is built to original D-Type specification including the front chassis frames. Powered by a fully rebuilt Jaguar XK 3.8 litre  (wet sumped) six cylinder engine built to fast road specification with triple Webber DCOE45 carburettors. Transmission comes from an original Jaguar 4 speed Moss gearbox with overdrive. Narrowed live rear axle to D-Type specification with correct torsion bar rear suspension. The car is equipped with full width screen, Dunlop 16" wheels with Dunlop racing tyres and spinners, authentic D-Type instruments and switch gear, Original steering wheel, Monza style fuel cap, Original collapsible rubber bag tack with safety fuel cell, seat belts and authentic under bonnet detailing.
The Jaguar D-Type Long Nose by Proteus (registration number SLU 871) offered here at Hofmann's is an all aluminum bodied car. Commissioned as a no expense spared reproduction of an original D-Type built to exact specification by the founder of Proteus cars in the early 1990s.
Registered on 1956 historic Jaguar paperwork, this is a perfect opportunity to own a perfect recreation of one of histories most iconic and successful Racecars.